Posts in community Facebook groups across Australia are claiming that eight or nine-year-old boys who go by the name of either Brandon or Justin Smith have gone missing in the local area.
This is false. The posts are fake and designed by scammers to boost engagement.
One photo being used in many posts is of a real boy who went missing in New York City but was later found.
This Facebook post (archived here) urges people to look out for a missing boy called Brandon Smith in the West Australian town of Bunbury.
"Help!!! MISSING Child!! #Bunbury," the caption says.
"My grandson Brandon Smith only 8 years old went out on his bike earlier today and he still hasn't returned.He doesn't know where he is going, new surroundings.There is a silver alert activated on him. Please help bump this post so we can get him home safely!!"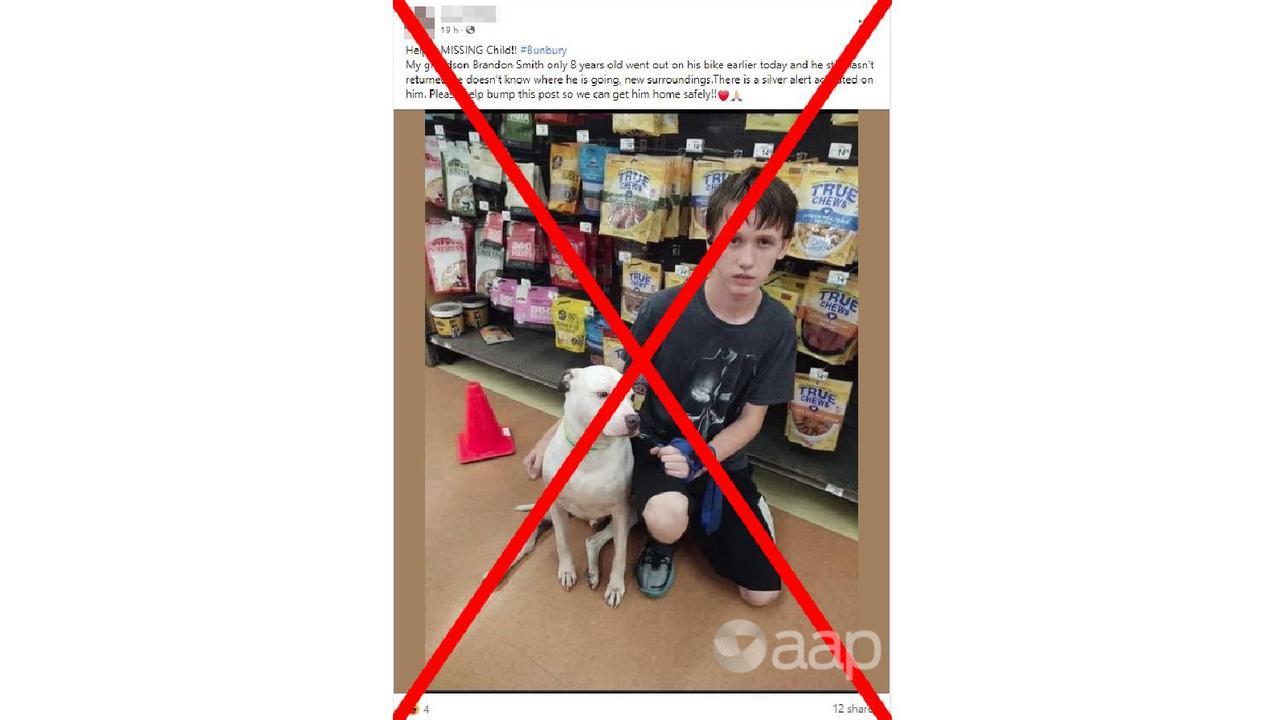 Another Facebook post claims that an eight-year-old boy, also called Brandon Smith, and using the same photo, is missing in Alstonville in northern NSW.
There are claims that boys with the same name and age are missing in eastern Victoria (here), and in southeast Queensland (here).
Amazingly, eight-year-old Brandon Smiths seem to be missing in Omaha, Nebraska (here), Goshen, Ohio (here), Yuba City, California (here) and even in Falkirk, Scotland (here).
The posts are clearly fake, and yet another example of scammers claiming people are missing to garner likes and shares.
The Lubbock Avalanche-Journal in Texas has warned its readers about scams involving a missing "Brandon Smith" in this article.
One of the photos being used in the posts is actually from this real missing persons case in New York State. It is an image of 17-year-old Jason W Babcock Jr, who went missing early in July but has since been found by the NY Police.
Scammers post photos along with a claim that a person is missing and encourage Facebook users to like and share the post.
Once enough people have done so, they change the posts to promotions for fake real estate listings or dodgy surveys designed to harvest users' personal information.
Viewing the edit history on many edited posts reveals that they were originally about missing people (examples here, here, here and here).
AAP Factcheck has debunked many of these claims before with examples here, here, here and here.
Scammers are making thousands of Facebook posts like this that encourage people to share them and/or click nefarious links.
That means you may be tricked into a scam or advertising a scam to your family and friends on Facebook without realising it.
That's why it's vital to know how to spot a potential scam post.
HOW TO SPOT A SCAM POST ON FACEBOOK – THE RED FLAGS
Treat posts appealing for help to find lost or found people or pets, offering extremely cheap or free products and services with caution if they include more than one of the following features:
* The person encourages everyone to share their post widely.
* They don't provide their contact details or they ask people to send them a DM or PM (direct message or private message).
* The post includes only very vague details about the location of the person or pet, or the giveaway.
* If the account of the person posting is less than a year old, has no profile picture, has very few friends, or isn't located in the same area as the subject of their post. This indicates their account is fake.
* If you can't comment on the post because the person has disabled comments. This is done to stop people from warning others that it's a scam.
The Verdict
The claim that an eight-year-old boy named Brandon Smith has gone missing in multiple locations around the world is false.
The posts are scams designed to promote fake real estate listings or dodgy surveys.
One photo being used in this scam is of a 17-year-old boy who went missing in New York.
False – The claim is inaccurate.
AAP FactCheck is an accredited member of the International Fact-Checking Network. To keep up with our latest fact checks, follow us on Facebook, Twitter and Instagram.
All information, text and images included on the AAP Websites is for personal use only and may not be re-written, copied, re-sold or re-distributed, framed, linked, shared onto social media or otherwise used whether for compensation of any kind or not, unless you have the prior written permission of AAP. For more information, please refer to our standard terms and conditions.