Facebook community groups are being bombarded with posts from people claiming to be looking for a missing relative in their area.
But the appeals for help are fake. The fake posts are part of an 'engagement bait' scam that encourages other users to like or share the content so it reaches a wide audience.
The original posts about missing relatives are then edited to become advertisements with suspicious links.
This post (archived here), for example, was originally an appeal for help posted by somebody using the name 'Stephen Saldivar', who said they were looking for their birth mother or father in Wichita Falls, Texas.
However, a look at the post's edit history shows that on May 15, 2023, the text and images were changed to turn it into a property advert.
Many of the fake posts use the same photos and almost identical text across multiple community groups, with only the town/city/district name changed from group to group.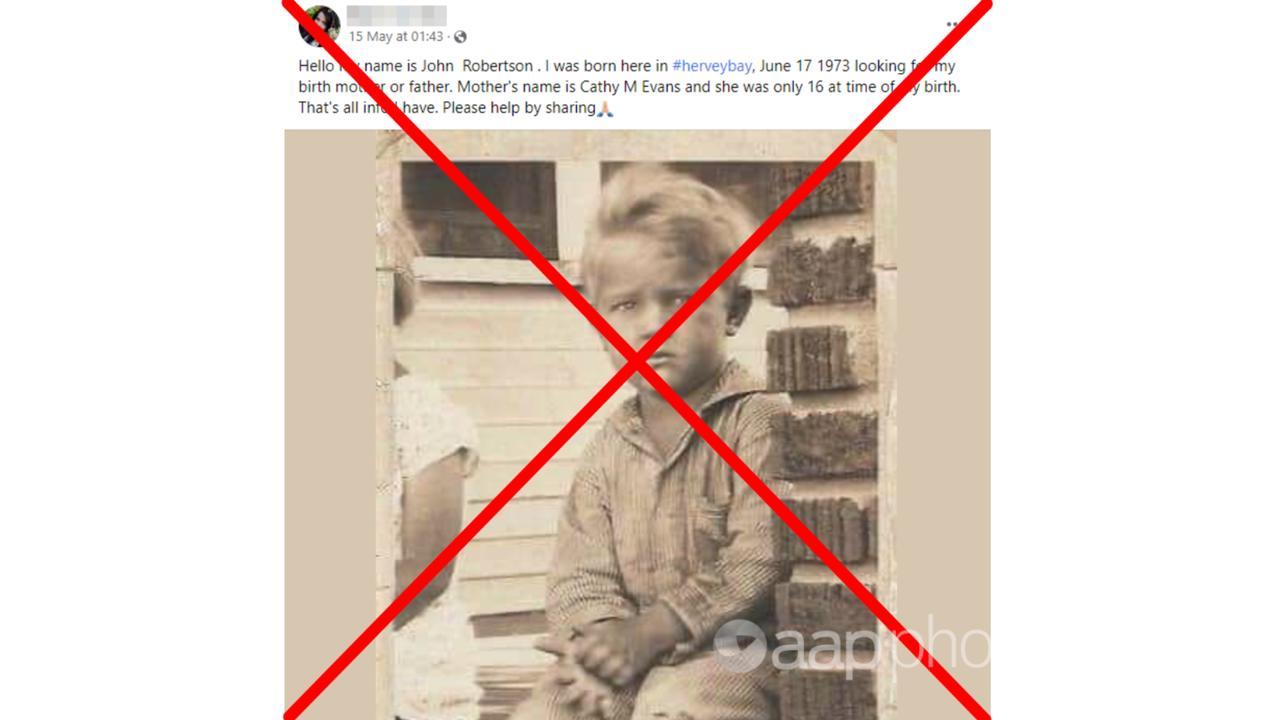 This post (screenshot here), for example, claims to be an appeal for help by somebody called 'John Robertson', who was purportedly born in Hervey Bay, Australia.
It says: "Hello my name is John Robertson. I was born here in #herveybay, June 17 1973 looking for my birth mother or father. Mother's name is Cathy M Evans and she was only 16 at time of my birth. That's all info I have. Please help by sharing".
Yet a Facebook search for the words 'John Robertson Cathy Evans' reveals the same text and photo have been posted in dozens of community groups across multiple countries.
In each case, only the supposed birthplace of 'John Robertson' has been changed.
In this post (archived here), for example, 'John Robertson' claims to have been born in Lee County, Mississippi, but all the other details remain the same.
In this one (archived here), the same 'John Robertson' was supposedly born in Barnsley, England.
A Google reverse image search reveals the photo of 'John Robertson' has been taken from this 2010 Flickr post.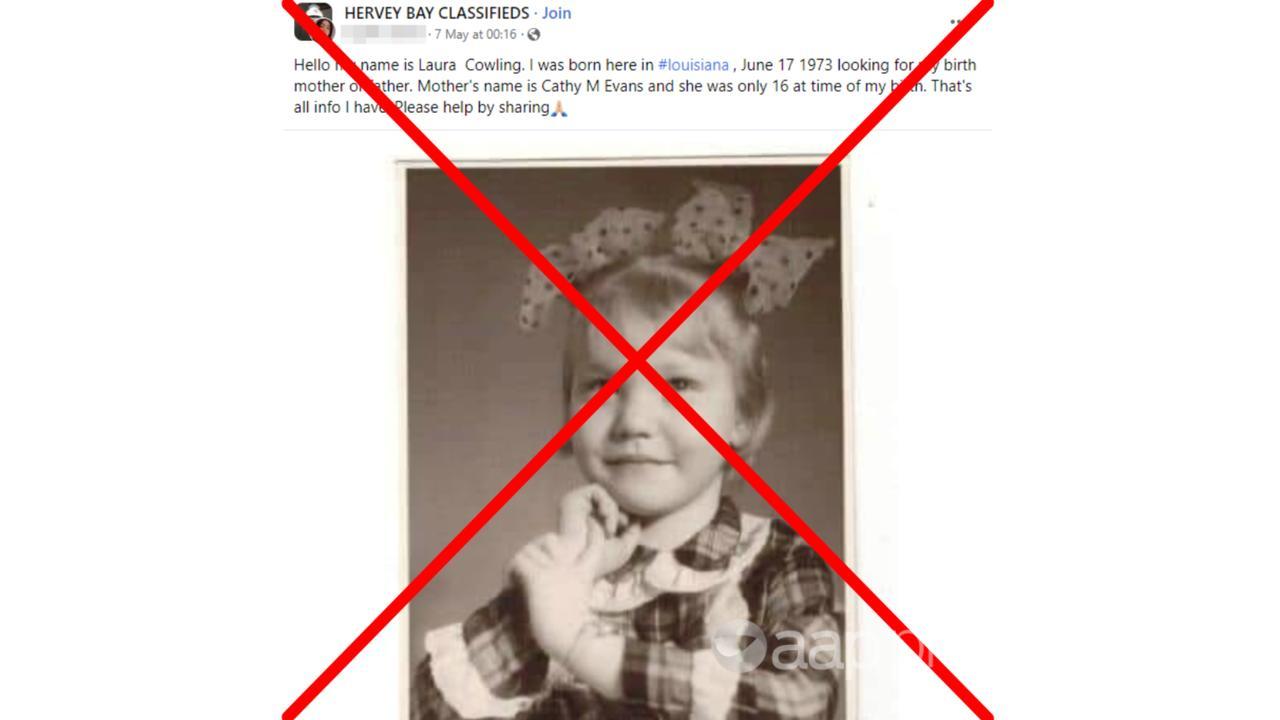 AAP FactCheck found many other versions of the scam, such as these ones (screenshot here) using a photo of a young girl purportedly called 'Laura Cowling' and these ones (screenshot here) about a man purportedly called 'Javier Thomas' or 'Joel Hogue'.
Most of the fake appeals seen by AAP FactCheck were posted by new Facebook accounts.
The posts usually have comments turned off to stop people from warning other users about the scam.
It is important to note that not all posts about missing people are fake. Facebook has been a valuable tool for users hoping to reconnect with long-lost friends and relatives.
However, the success of the platform has also attracted plenty of online scammers.
AAP FactCheck has previously warned users to be wary of fake posts about missing children, injured dogs, free groceries, too-good-to-be-true money-making schemes, surplus Bunnings stock and underappreciated crochet patterns.
The scam posts seem to be particularly prevalent in community groups with inactive administrators.
The Verdict
Various posts featuring Facebook users searching for missing relatives are fake.
They are part of an engagement bait scam that encourages people to spread the content to a wide audience. The posts are then edited to become advertisements with suspicious links.
False – The claim is inaccurate.
AAP FactCheck is an accredited member of the International Fact-Checking Network. To keep up with our latest fact checks, follow us on Facebook, Twitter and Instagram.
All information, text and images included on the AAP Websites is for personal use only and may not be re-written, copied, re-sold or re-distributed, framed, linked, shared onto social media or otherwise used whether for compensation of any kind or not, unless you have the prior written permission of AAP. For more information, please refer to our standard terms and conditions.