The Statement
AAP FactCheck examined a Facebook post from September 29, 2018 by an Australian user which shows a surfer riding a huge wave while a whale swims inside the breaker.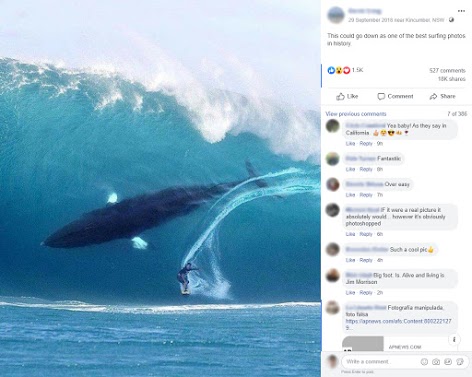 The post's caption reads, "This could go down as one of the best surfing photos in history."
The post has been shared more than 18,000 times and attracted more than 520 comments and 1500 reactions.
The Analysis
Manoa Drollet, the Tahitian surfer pictured in the image, was surfing the Teahupo'o break on the French Polynesian island of Tahiti when his picture was taken by photographer Tim McKenna on July 28, 2006.
McKenna is a Sydney born and Tahiti-based photographer who has covered ocean water sports through to inland tracks or deserts for motocross sports.
The image of Drollet surfing the Teahupo'o wave resurfaced on digital graphic artist, Julian Herbrig's Instagram account, but this time he was joined by a whale. Herbrig is a German freelance photographer, videographer and creative director specialising in landscape, cityscape and lifestyle shoots. He began his career as a "digital artist, learning everything about photo retouching and image manipulation".
AAP FactCheck searched for the image on Hebrig's Instagram account but it was unable to be found.
McKenna posted the altered image on his social media accounts on April 2, 2016 and explained that the photo was a mirrored image of his original with the addition of a swimming whale. He explained in the Instagram post, which carried the hashtag fake, that he did not usually "post photos that have been manipulated by graphic artists in Photoshop".
"Digital graphic artist Julian Herbrig @care4art took the original photo and flipped it. Regular foot Manoa Drollet ends being a goofy foot charging a massive right hander. He then added an aerial drone photo of a Blue whale in the face of the wave," he explained.
"Although we do see many humpback whales cruise by Teahupoo in winter time, I have never witnessed a blue whale in French Polynesia and certainly not trying to drop in at Teahupoo! Certainly is catchy!"
The whale image was taken by a Gentle Giants Whale Watching guide, Linda Guðrúnardóttir on July 22, 2005 during an outing in Iceland.
The article also revealed the whale was a minke not a blue whale. "MINKE CLOSE UP. Our passengers onboard this afternoon really enjoyed the trip onboard Faldur, after a long search for the whale. They finally spotted this friendly Minke Whale which gave thim(sic) the show a good Minke should!!"
The Verdict
Based on the evidence, AAP FactCheck found the Facebook post to be false. The image was created by German digital graphic artist Julian Herbrig who combined a mirrored photo of Tahitian surfer Manoa Drollet riding a Teahupo'o wave and a minke whale picture from Iceland.
False – The primary claim of the content is factually inaccurate.
First published October 21, 2019, 13:01 AEST