The Statement
AAP FactCheck examined a Facebook post featuring a video that allegedly shows Muslim men in Birmingham, UK attacking and blocking cars driving down a darkened street.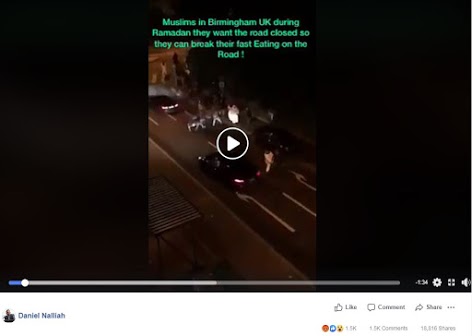 The text across the top of the 1min 38sec video states: "Muslims in Birmingham UK during Ramadan they want the road closed so they can break their fast eating on the Road!"
The post further states: "This is not in Pakistan, Syria or Iraq. WAKE UP take a good look. It is in the UK. Rise Up Australia – Keep Australia Great. www.riseupaustraliaparty.com."
The video was posted on June 2, 2019 and received over 1,500 views, 3,100 comments and 18,000 shares.
The Analysis
The video was posted by Daniel Nalliah who is listed as the founder and national president of the Rise Up Australia Party which states on its site that Mr Nalliah is a "major voice against Multiculturalism and the Islamisation of the West".
Mr Nalliah ran as a Senate candidate for Victoria in the March 2019 federal election. His party scored 0.2 per cent of the vote in Victoria and failed to win a seat.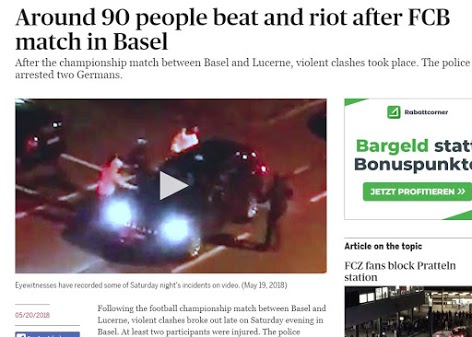 AAP FactCheck found the video posted on Facebook was a segment of a longer 2min 55sec video originally published on May 20, 2018 as part of a news story by Swiss German-language media platform Blick, which states it's "the Swiss portal for news in the fields of news, politics, business, sports, people, entertainment, lifestyle and cars".
The translated Blick story headline reads: "Shock video shows wild brawl after FCB match. Football chasers rage in Basel's residential district".
The Blick story states the brawl broke out on Saturday night May 19, 2018 in Birsstrasse, Basel, after a football match between FC Luzern and FC Basel, between the stadium and the Redingstrasse. "It all began when 30 'fans' in white protective suits painted a bridge pier on Birsstrasse. Meanwhile, according to prosecutors 60 more people appeared and it came to a brawl," the Blick report states.
Another report about the same brawl and including the same eyewitness video was published by Tages-Anzeiger, a Swiss German-language national daily newspaper in Zurich, Switzerland, also on May 20, 2018 with the translated headline: "Around 90 people beat and riot after FCB match in Basel. After the championship match between Basel and Lucerne, violent clashes took place. The police arrested two Germans."
A third report also dated May 20, 2018 using a 1min 33sec version of the video was published by another Swiss media platform tio.ch under the headline "Clashes after Basel-Lucerne: the video of the violence. After a busy match last night: in addition to the scuffles, various acts of vandalism were also carried out and at least two people were injured."
On May 22, 2018 the Basel city prosecutor issued a "witness call" seeking further information and any images relating to "violent clashes between several dozen violent football fans on the evening May 19, 2018 after the football match FC Basel against FC Luzern, in the vicinity of the stadium St. Jakob Park". The prosecutor's release was headlined "First arrests after violent clashes" and said six people had been arrested on suspicion of "assault, trafficking and property damage".
Less than two weeks after the Basel football brawl, the eyewitness video was repurposed as a video depicting Muslims rioting in the UK during Ramadan.
The fake video was immediately debunked on June 1, 2018 by Maldita, an independent journalistic platform in Spain which states it focuses on the control of disinformation and public discourse through fact-checking and data journalism techniques. The platform's name translates as "the damned"
The Maldita headline about the "hoax" states: "The video of riots of Muslims for Ramadan in London is not real: it is a fight between ultras in Switzerland". The report also says: "The hoax is spreading to more countries."
The fake video has since been shared tens of thousands of times on Facebook and other social media and played over one million times despite being debunked as a fake by a number of fact check units.
The fake video was posted on Facebook in Sri Lanka twice on June 2, 2019, here and here, again in Australia also on June 2 and in Canada on June 4.
The fake Facebook video posts have also been debunked by the India's Boom fact check team on June 4, 2019. Boom states it is India's premier fact checking website, committed to bring to our readers verified facts rather than opinion.
It was also declared a fake by the AFP fact check unit on June 8, 2019.
The Verdict
Based on this evidence AAP FactCheck finds the Facebook post published on June 2, 2019 does not show Muslims rioting in Birmingham, the UK and is false.
False – The Facebook post is false.
First published Friday July 19, 2019 12:38 AEST
All information, text and images included on the AAP Websites is for personal use only and may not be re-written, copied, re-sold or re-distributed, framed, linked, shared onto social media or otherwise used whether for compensation of any kind or not, unless you have the prior written permission of AAP. For more information, please refer to our standard terms and conditions.