The Statement
Social media users have leapt onto a statement by the Victorian health minister on September 28 about COVID-19 vaccinations, using the video to claim that only a small share of those hospitalised due to the virus were unvaccinated.
During a September 28 update on the state's COVID-19 status, Victorian Health Minister Martin Foley said: "Of the people who were in hospital yesterday, 78 per cent were vaccinated, and 17 were partially vaccinated"  (video mark 3min 22 secs).
Numerous social media accounts subsequently shared a clip of Mr Foley's statement, with one Instagram video, which had been viewed more than 32,000 times at the time of writing, including a text overlay that reads: "Of all The People admitted to hospital for Covid19 yesterday, only 5% UNWAXXED (unvaccinated)."
The video was also highlighted by users on Instagram, Twitter, and Facebook (here and here) with comments such as "slip up or truth bomb", "VAX DEVASTATION IN AUSTRALIA" and "the jabs DO NOT WORK".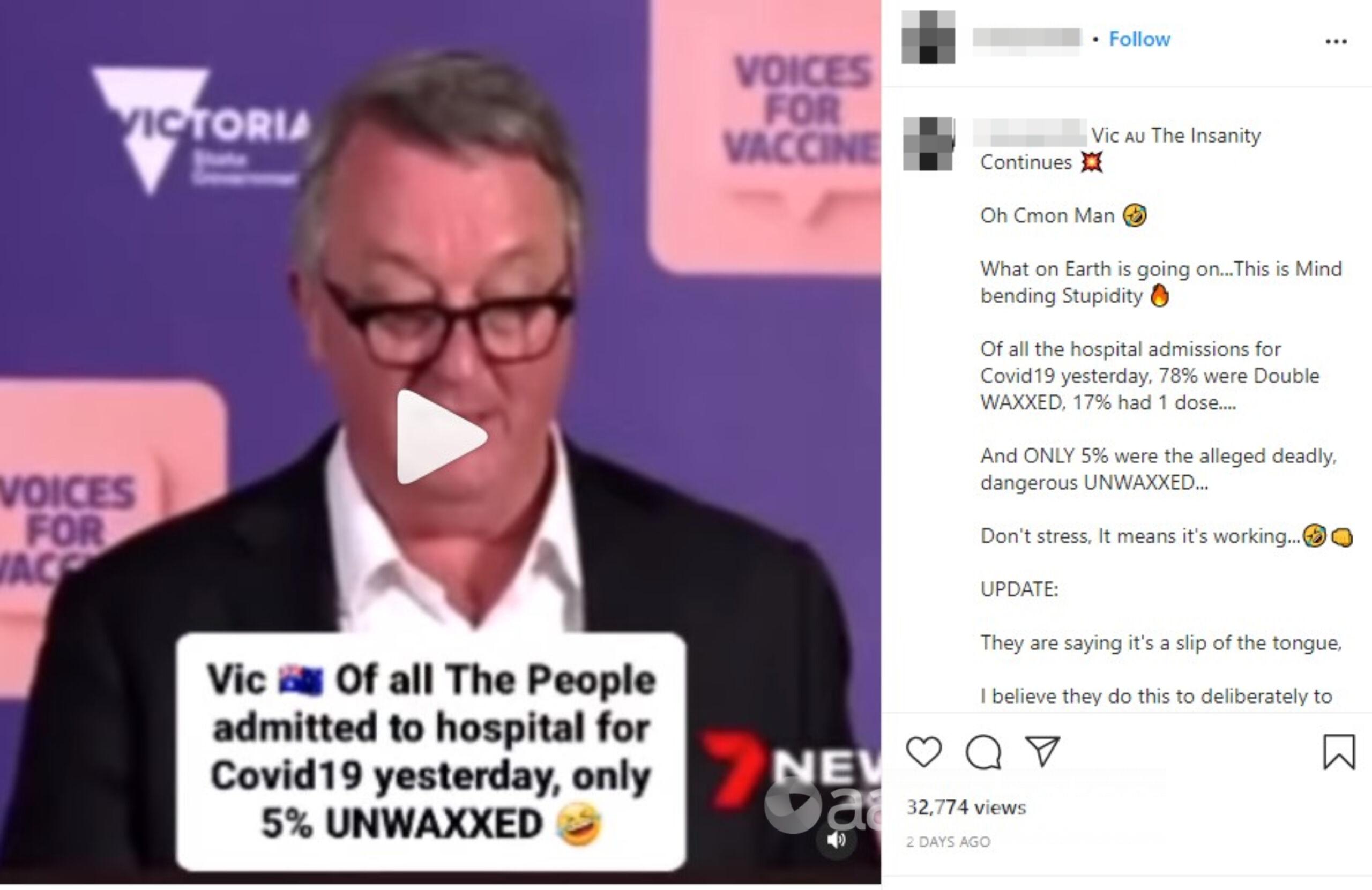 The Analysis
A statement by Health Minister Martin Foley that 78 per cent of COVID-19 hospital patients in Victoria had been vaccinated was simply an error, the minister's office confirmed. The figures he mistakenly provided do not tally with the state's previous COVID-19 updates, which have highlighted that the vast majority of hospitalised cases were unvaccinated.
In an email to AAP FactCheck, a spokeswoman for Mr Foley confirmed that he misspoke at the press conference – and the correct figure was that 78 per cent of patients hospitalised with COVID-19 at the time were unvaccinated.
The Victoria Department of Health and Human Services has frequently included how many cases in hospital were vaccinated in its updates. For example, on September 24, it said 77 per cent of the cases in hospital the previous day were not vaccinated, while a further 19 per cent were partially vaccinated. Only four per cent were fully vaccinated.
The department provided similar data on several previous occasions (see here, here and here).
The Victorian figures also tally with those from New South Wales. A NSW Health update, published on September 4, said 73 per cent of people hospitalised with COVID-19 between June 16 and August 21 had received no vaccine doses, while only 4.5 per cent were fully vaccinated.
COVID-19 cases in Victoria have been steadily rising since the state's Delta variant outbreak began in July. Vaccination rates have also been increasing rapidly; as of October 1, 80.8 per cent of residents aged 16 and over had received at least one vaccine dose, while 50.6 per cent were fully vaccinated.
Meanwhile, a recent US Centers for Disease Control and Prevention (CDC) study across 13 jurisdictions found fully vaccinated people were five times less likely to become infected with SARS-CoV-2 and more than 10 times less likely to be hospitalised or die from COVID-19 than those who were not fully vaccinated during a period when Delta had become the dominant variant.
AAP FactCheck has previously fact-checked posts sharing a similar video of a NSW Health official misquoting figures on the numbers of vaccinated patients in hospital. The official corrected himself later in the same press conference.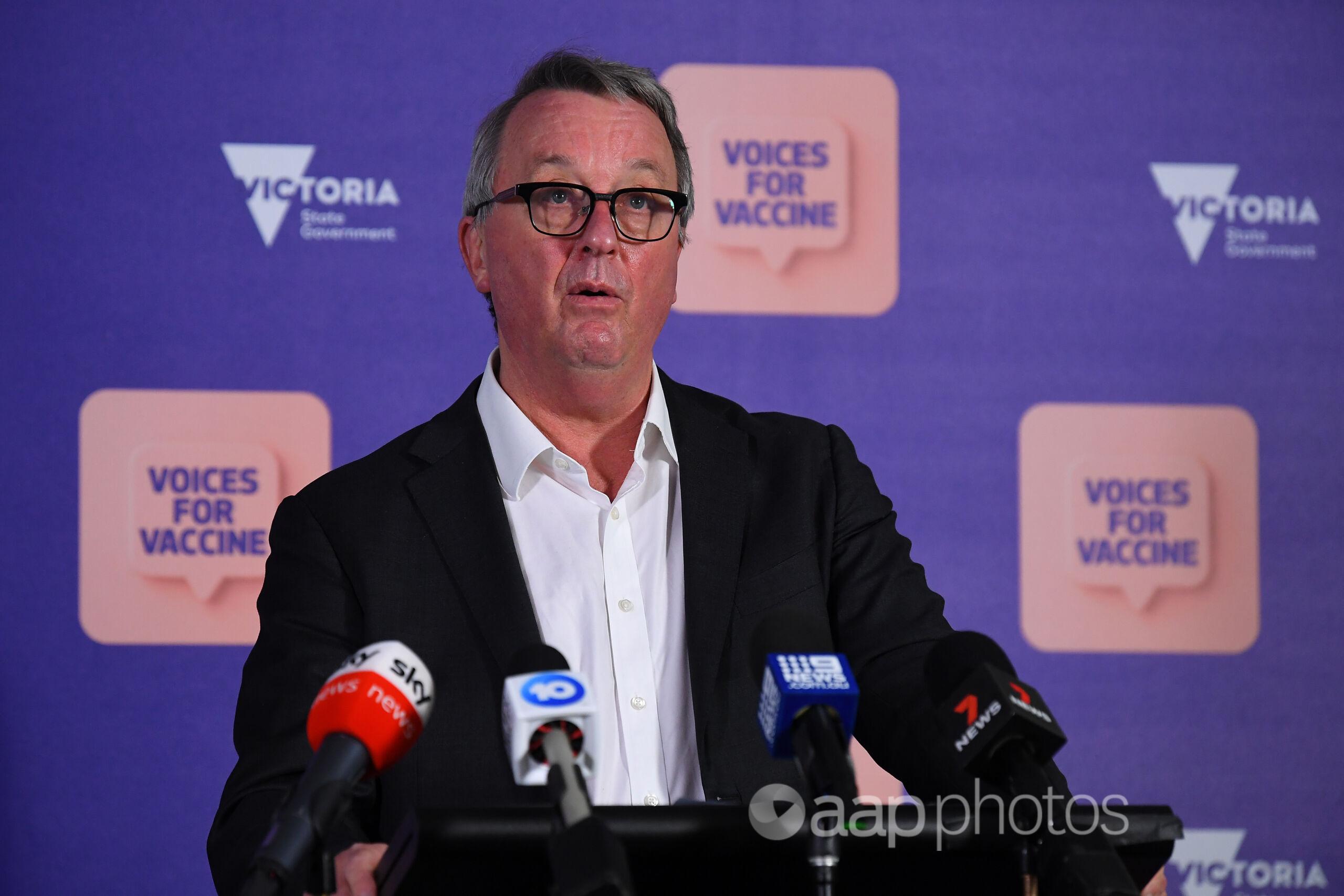 The Verdict
The vast majority of COVID-19 patients in Victorian hospitals as of September 27 were unvaccinated – not vaccinated, as claimed in the posts.
Victoria's health minister misspoke during a press conference and provided incorrect figures, his office confirmed. Multiple updates from the state's health department in the preceding days showed more than three-quarters of hospitalised COVID-19 patients had not received any vaccine doses.
False – Content that has no basis in fact.
* AAP FactCheck is an accredited member of the International Fact-Checking Network. To keep up with our latest fact checks, follow us on Facebook, Twitter and Instagram.
All information, text and images included on the AAP Websites is for personal use only and may not be re-written, copied, re-sold or re-distributed, framed, linked, shared onto social media or otherwise used whether for compensation of any kind or not, unless you have the prior written permission of AAP. For more information, please refer to our standard terms and conditions.