The Statement
An Instagram post claims that Pfizer's COVID-19 vaccine was not tested on children, and when it had been used it had caused lifelong heart problems.
The August 6 post features a video of Australian anti-vaccine and anti-5G activist Matt Lawson, who claims the vaccine "has not been tested on children" and in the US it led to kids "getting a thing called myocarditis" (video mark 2min 36sec).
"Now that is where you have an enlarged heart and the only way you can fix that is through drugs, intravenous drips and surgery," he says
"So if they go to your schools, whether you are pro-jab or against it … your child can get an enlarged heart and other problems that they will keep for the rest of their life."
Lawson made the claim in reference to a pop-up COVID testing centre at Melbourne's Al-Taqwa College, where students aged 16 and over and teachers could also be vaccinated.
At the time of writing, the video had been viewed more than 37,000 times and received more than 1800 likes. Lawson has previously filmed himself distributing COVID-19 vaccine-related misinformation to nursing homes.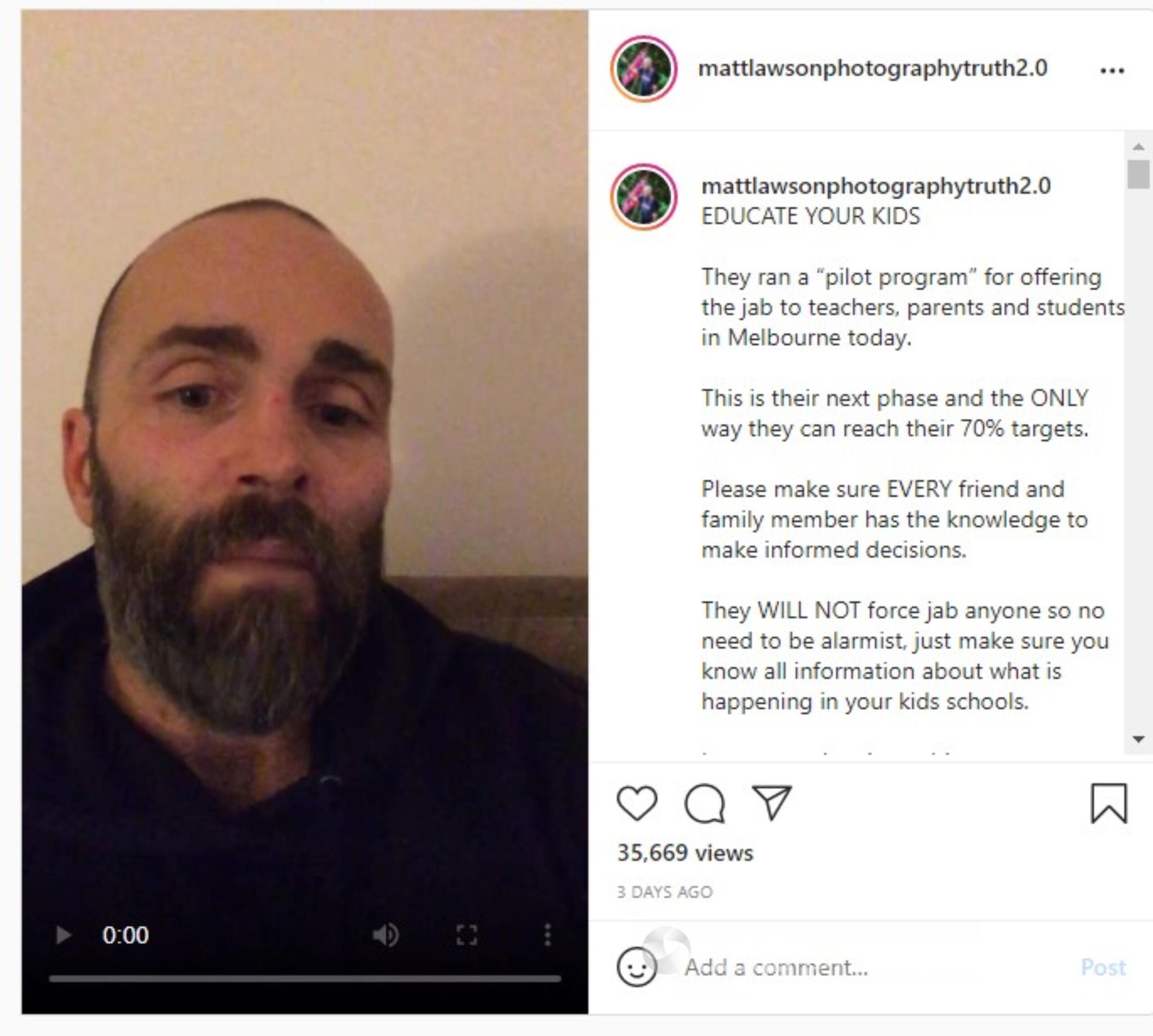 The Analysis
Contrary to the post's claims, the Pfizer vaccine available to children in Australia has been trialled on the relevant age cohort. While the vaccine has been linked to a very small increase in the risk of a heart condition in certain groups, most recover quickly with no long-term consequences.
Pfizer's mRNA-based COVID-19 vaccine was provisionally approved in Australia for use in people aged 12 and over in July after receiving provisional approval for those aged 16 and older in January. The company previously reported that it began recruiting for a phase-three clinical trial on people aged 12 to 15 in July 2020.
A press release from March 31 said the vaccine was well tolerated among those aged 12 to 15 in the trial, with efficacy and antibody responses exceeding those reported in 16- to 25-year-olds. Pfizer also noted that it began a trial on children aged six months to 11 years in March, and it planned to apply for approval to use the vaccine in this younger age group in September-October.
A paper published in the New England Journal of Medicine about the trial data for 12- to 15-year-olds found the vaccine had a "favourable safety and side-effect profile". Myocarditis was listed among the observed side effects. The US Food and Drug Administration approved the vaccine for use on 12- to 15-year-olds in May. It said the side effects in adolescents were consistent with those reported in clinical trials for older age groups.
The Australian Therapeutic Goods Administration approved the use of the Pfizer vaccine for those aged 12 and older in July, noting that it met the high safety, efficacy and quality standards required after "a thorough and independent review" of the company's submission.
The AstraZeneca vaccine is restricted to use in those aged 18 or older, although the Pfizer vaccine is the "preferred" option for adults under 60.
During its rollout around the world, the Pfizer vaccine has been linked to a small increase in the risk of myocarditis. This condition is an inflammation of the heart muscle, which can reduce the heart's ability to pump and cause arrhythmias. It is usually caused by a viral infection.
Nevertheless, one preprint study identified that young males were more likely to develop myocarditis from COVID-19 infection than from the vaccines used to combat the virus.
The US Centers for Disease Control and Prevention said there had been 1,253 reports of myocarditis or pericarditis – swelling of the tissue surrounding the heart – among vaccine recipients aged 30 and younger as of August 6. It had confirmed 730 reports through follow-up.
A CDC fact sheet said these cases were rare "given the hundreds of millions of vaccine doses administered". According to the health agency's data tracker, more than 356 million vaccine doses had been administered in the US as of August 15.
The CDC said the cases were mostly in male adolescents and young adults aged 16 or older and most patients who received care "responded well to treatment and rest and quickly felt better". The European Medicines Agency also said it had reviewed rare cases of myocarditis linked to the vaccine, however both agencies say the benefits of vaccination outweigh the potential risks.
Guidance released by the ​​Australian Technical Advisory Group on Immunisation and the Cardiac Society of Australia and New Zealand said that 84 cases of myocarditis or pericarditis had been reported in Australia following vaccination as of 25 July, however not all cases were necessarily caused by the vaccine.
Based on the "crude reporting rate", it said the incidence was 40.6 cases per million second doses of an mRNA COVID-19 vaccine in males aged 12-29 and 4.2 cases per million in females in the same cohort.
"Most myocarditis and pericarditis cases linked to mRNA vaccination have required hospitalisation, however most have responded well to standard treatment with a mild and self limiting course," the guidance said.
"Importantly, most people who have had myocarditis and/or pericarditis due to other causes recover completely and have no ongoing impairment of cardiac function, and early data suggest this is likely for those after Comirnaty (Pfizer)."
University of Otago women's and children's health professor Peter McIntyre, a member of the World Health Organization's expert advisory group on immunisation, told AAP FactCheck the information in the video about myocarditis was "totally wrong".
"Myocarditis is not an enlarged heart," Prof McIntyre said in an email.
"In very rare, severe cases of myocarditis, permanent heart damage leading to enlargement and the heart not working well (heart failure) can happen. However, the great majority of cases get better with simple anti-inflammatory drugs (like the ibuprofen you can get over the counter even in supermarkets) and rest."
Prof McIntyre said while there was a link between myocarditis and mRNA vaccines, 90 per cent of cases were out of hospital within a week and the risk of contracting the disease ranged from one in 25,000 for adolescent males to one in a million for older women.
"There are no cases I am aware of which have resulted in long-term heart damage."
He said millions of children aged 12 to 15 had received mRNA vaccines worldwide and any increased risk of myocarditis in children would have emerged by now if it existed.
University of Sydney infectious diseases paediatrician Robert Booy said mRNA vaccines had been trialled before being administered to children. While there was a small risk of myocarditis among young males, the majority recovered quickly, he said.
"Studies in children have been running for over six months and now include babies as young as six months old," Prof Booy said. "The Pfizer vaccine is already licensed and recommended in 12- to 15-year-olds and has been given to over five million 12- to 15-year-olds in the United States.
"The real-world experience regarding safety and effectiveness is very reassuring. Younger males, whether they are in their 20s or in their teens, have a slightly increased risk of a mild form of myocarditis from which they recover over the course of days or a week."
Deakin University epidemiology chair Catherine Bennett also said incidents of myocarditis due to mRNA vaccines were about 67 per million in male adolescents and were extremely rare.
"Most are transient episodes and recover on their own, or (they) make a full recovery with treatment," she said.
The Verdict
The post falsely claims that Pfizer's vaccine has not been tested on children when it has already undergone clinical trials in the relevant age group.
While mRNA vaccines have been linked to cases of myocarditis, data from multiple countries show these incidents have been rare. Experts and health authorities say cases are generally mild and most patients recover quickly.
Partly False – The content has some factual inaccuracies.
* AAP FactCheck is an accredited member of the International Fact-Checking Network. To keep up with our latest fact checks, follow us on Facebook and Twitter.
All information, text and images included on the AAP Websites is for personal use only and may not be re-written, copied, re-sold or re-distributed, framed, linked, shared onto social media or otherwise used whether for compensation of any kind or not, unless you have the prior written permission of AAP. For more information, please refer to our standard terms and conditions.