The Statement
A Facebook post highlights a quote by London Mayor Sadiq Khan on terror attacks being "part and parcel of living in a big city" and makes a comparison with the Japanese capital Tokyo.
The November 30 post by an Australian user shows a picture of Mr Khan and an aerial view of Tokyo. In the first photo the text reads, "Terror attacks are 'part and parcel of living in a big city'" and in the second photo it lists, "Tokyo: Population 13.62 million. – Biggest City In The World. No Islamic Terrorism".
The post has been shared more than 600 times and attracted more than 40 reactions.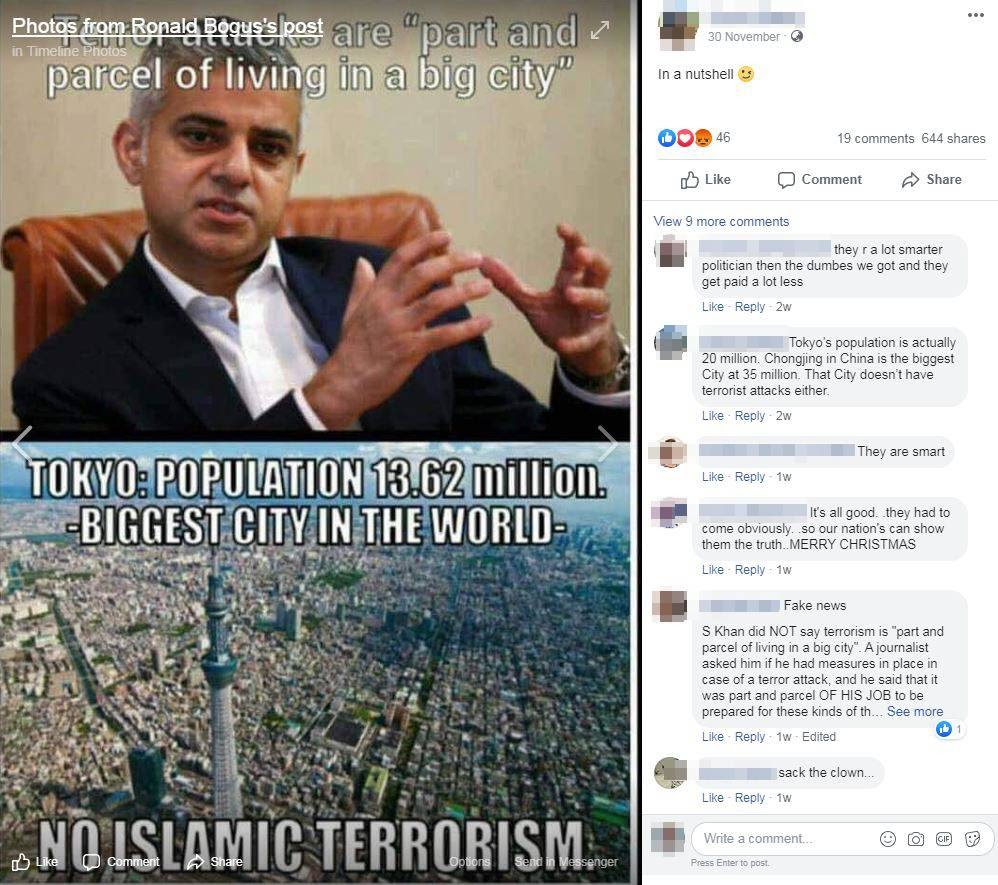 The Analysis
The genesis of the Facebook post dates back to September 18, 2016 when London Mayor Sadiq Khan was quoted by London's Evening Standard in response to an explosion in New York that injured 29 people.
In a video for a story headlined, "New York explosion: Sadiq Khan says terror attacks are 'part and parcel of life in a big city'", Mr Khan said: "Part and parcel of living in a great global city is you've got to be prepared for these things, you've got to be vigilant, you've got to support the police doing an incredibly hard job, you got to support the security services."
New York Governor Andrew Cuomo labelled the Chelsea district blast "an act of terrorism".
A paraphrased version of Mr Khan's quote was published by The Independent on September 22, 2016. The story's opening two paragraphs read: "Sadiq Khan has said he believes the threat of terror attacks are "part and parcel of living in a big city" and encouraged Londoners to be vigilant to combat dangers.
"The Mayor of London revealed he had a "sleepless night" after the recent bombing in New York, and said major cities around the world "have got to be prepared for these sorts of things" to happen when people least expect them."
On March 22, 2017, Mr Khan's quote was tweeted by Donald Trump Jr with the comment: "You have to be kidding me?!: Terror attacks are part of living in big city (sic), says London Mayor Sadiq Khan".
Many publications, including Time magazine, labelled Trump Jr's comments as "misleading". Time said Mr Khan "did not imply that terrorism is a part of everyday life in big cities – he said that preparedness is "part and parcel of living in a big city'."
Mr Khan's quote gained another airing on ABC TV's Q&A program in March 2017. The ABC was criticised for not correcting a question which was: "In the wake of the London terror attack in Westminster, the mayor of London, Mr Sadiq Khan, stated that terror attacks are now 'part and parcel' of living in a big city, expressing a need to be vigilant. Sydney is a booming metropolitan capital, with a population of 5 million Australians with diverse backgrounds and cultures. Is Mr Khan right? And do Sydneysiders and residents of other major Australian cities need to accept terrorism as an inevitable part of modern life?"
The post's claim that Tokyo is "the biggest city in the world" was supported by a United Nations publication titled, '2018 Revision of World Urbanization Prospects' but the population figure of 13.6 million was not.
Under a subheading 'Cities ranking and mega cities', the UN publication says: "Tokyo is the world's largest city with an agglomeration of 37 million inhabitants, followed by New Delhi with 29 million, Shanghai with 26 million, and Mexico City and São Paulo, each with around 22 million inhabitants … By 2020, Tokyo's population is projected to begin to decline, while Delhi is projected to continue growing and to become the most populous city in the world around 2028."
Population Stat, using World Bank, United Nations, Census and GeoNames data, lists Tokyo's population in the urban area at 37.4 million and for the city area 8.3 million as of July 9, 2019.
The post's final claim, that there is "No Islamic Terrorism" in Tokyo checks out. AAP FactCheck was unable to evidence of an Islamic terror attack in Tokyo.
The Global Terrorism Database lists 403 terror incidents for Japan from 1970 to 2018. Under the column "Perpetrator Group" there are no listings for Islamic terrorists for incidents in Tokyo.
The Global Terrorism Database (GTD) documents more than 190,000 international and domestic terrorist attacks that occurred worldwide since 1970. The database is part of the US-based National Consortium for the Study of Terrorism and Responses to Terrorism which is headquartered at the University of Maryland.
The Verdict
Based on the evidence, AAP FactCheck found the Facebook post to be partly false. The post features a misquote of London Mayor Sadiq Khan from September 2016. There is evidence to support the claims that Tokyo's is the world's largest city and that there have been no Islamic terror attacks in the Japanese capital, however the city's population statistic is not correct.
Partly False – The claim of the content is a mixture of accurate and inaccurate, or the primary claim is misleading or incomplete.
* AAP FactCheck is an accredited member of the International Fact-Checking Network. To keep up with our latest fact checks, follow us on Facebook, Twitter and Instagram.
First published December 20, 2019, 11:26 AEDT
All information, text and images included on the AAP Websites is for personal use only and may not be re-written, copied, re-sold or re-distributed, framed, linked, shared onto social media or otherwise used whether for compensation of any kind or not, unless you have the prior written permission of AAP. For more information, please refer to our standard terms and conditions.