A Facebook post featuring a greatest hits collection of climate change misinformation is spreading on social media.
The post (archived here), which is attributed to the late Professor Bob Carter from 2009, was shared in the Australian Climate Sceptics Group on January 4 and has been posted numerous times since at least 2018.
It purportedly lists "the facts" about climate change, but instead makes several false and misleading claims.
One of the central claims is the recent average global temperature (AGT) increase is actually within the natural rates of climate change for the last 10,000 years.
This is false.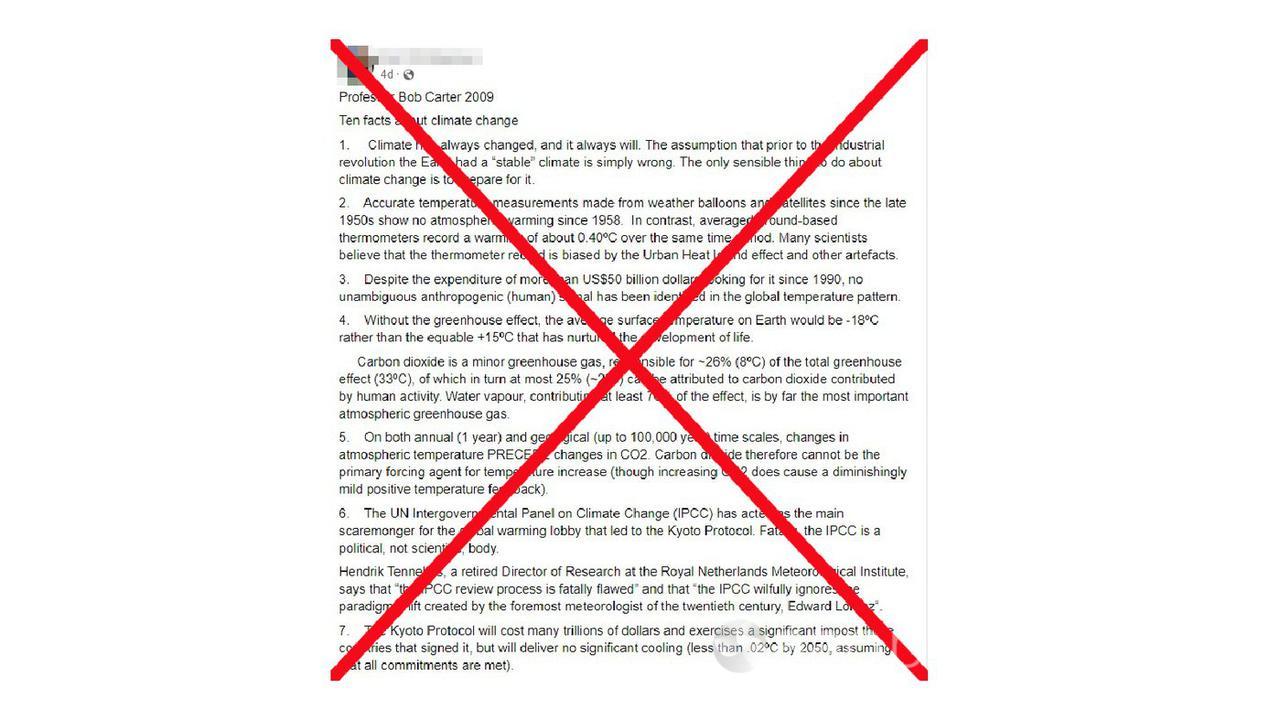 Various studies (examples here and here) have found the rate of warming since the industrial revolution is not in keeping with previous natural rises.
A 2021 study looked at global temperature changes at 200-year intervals going back 24,000 years. It concluded the rate of warming over the last 150 years surpassed the rate of any increase over the 24,000 year period.
"…the speed of human-caused global warming is faster than anything we've seen in that same time," Professor Jessica Tierney, the study's co-author, said.
NASA looked at rates of temperature change going back even further and came to the same conclusion.
It found that over the past million years, the global temperature rose a total of 4C to 7C over about a 5000 years period.
That compares to a 0.7C increase in the past century alone, making it about 10 times faster than the average rate of ice-age-recovery warming.
"The predicted rate of warming for the next century is at least 20 times faster. This rate of change is extremely unusual," NASA concluded.
The post makes several other misleading and false claims.
It casts doubt over the global recording of temperature, arguing that results could be skewed by the urban heat island effect.
AAP FactCheck previously debunked a similar claim in November 2022. Experts said the data confirming global warming comes from weather stations that follow strict standardisation protocols including that they must be placed away from buildings and trees which may reflect or absorb heat.
Additionally, sea surface temperature data, which cannot be influenced by urban heat islands, has recorded the same warming trend.
The post also claims carbon dioxide is something of a red herring and that water vapour is the most abundant and influential greenhouse gas (GHG).
AAP FactCheck tackled the subject in November 2022 and found that while water vapour is the most abundant GHG, it actually acts to amplify warming initiated by increasing emissions from carbon dioxide and other gases.
The post also claims it is untrue that "nearly all scientists" agree anthropogenic warming is occurring.
Various studies have addressed this question including this 2013 paper which looked at 11,944 peer-reviewed articles and found 97.1 per cent endorsed the consensus on human-induced global warming.
This 2010 study returned a figure of between 97 and 98 per cent based on 1372 climate researchers.
A study from 2016 looked at peer-reviewed articles on global warming from 2013 and 2014 and found only four of 69,406 authors (0.0058 per cent) rejected anthropogenic global warming.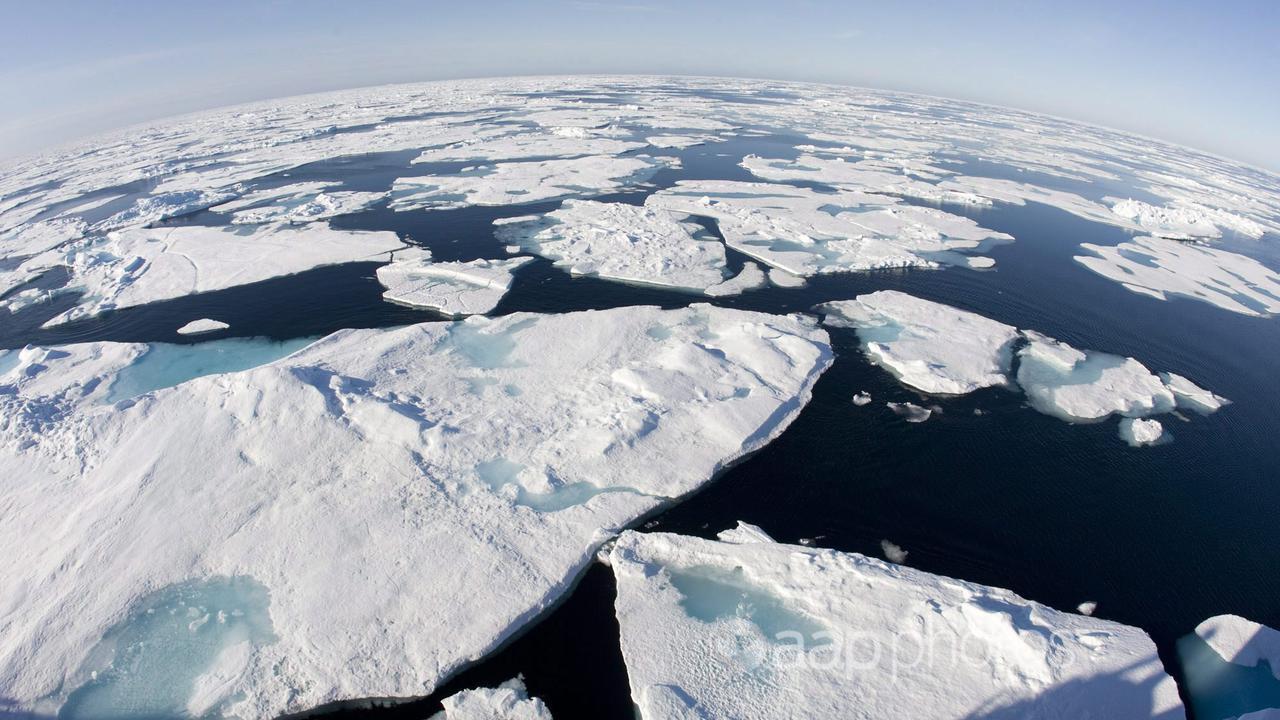 The post also claims more than half of the global temperature rise of the 20th century can be attributed to changes in solar cycles – a subject AAP FactCheck tackled earlier in January 2023.
It also claims the average global temperature has not increased since 1995 and has declined since 2002. AAP FactCheck debunked this in a related claim in August 2022.
The post also turns its attention to the Arctic and Antarctic, notably disputing the suggestion there is unprecedented melting taking place.
AAP FactCheck has covered the subject on multiple occasions (examples here, here , here and here).
The most recent statistics from NASA estimate Antarctica is losing some 151 billion metric tons of ice per year, while Greenland alone is losing 280 billion metric tons per annum.
The post also attempts to tackle sea level rise. While it acknowledges oceans are rising, it describes this as "natural" and showing no sign of being a "human-influenced increase".
NASA describes the current ongoing rise as "unprecedented" and multiple studies have concluded it is directly linked to anthropogenic climate change, examples here, here and here.
Throughout the post it is claimed that no link between human activity and warming has been discovered.
This has also been debunked by AAP FactCheck on multiple occasions, see here, here and here.
The Verdict
The claim recent global warming is comparable with natural rates of climate change over the past 10,000 years is false. Multiple studies have found the rate of change is unprecedented and cannot be compared with previous natural variations over the last 10,000 years.
NASA said warming over the last century was about 10 times faster than the average rate of ice-age-recovery warming.
The post also makes several other claims relating to sea levels, melting ice, the urban heat island effect, scientific consensus, solar cycles and water vapour. All are false.
False – The claim is inaccurate.
AAP FactCheck is an accredited member of the International Fact-Checking Network. To keep up with our latest fact checks, follow us on Facebook, Twitter and Instagram.
All information, text and images included on the AAP Websites is for personal use only and may not be re-written, copied, re-sold or re-distributed, framed, linked, shared onto social media or otherwise used whether for compensation of any kind or not, unless you have the prior written permission of AAP. For more information, please refer to our standard terms and conditions.