Australian news interviews with mining magnate Gina Rinehart have been manipulated to promote online scams.
The videos appear to show Mrs Rinehart promoting stocks in Hancock Prospecting. The videos then direct Facebook users to websites for illegitimate investment or trading schemes.
Hancock Prospecting is privately owned and not listed on the stock exchange.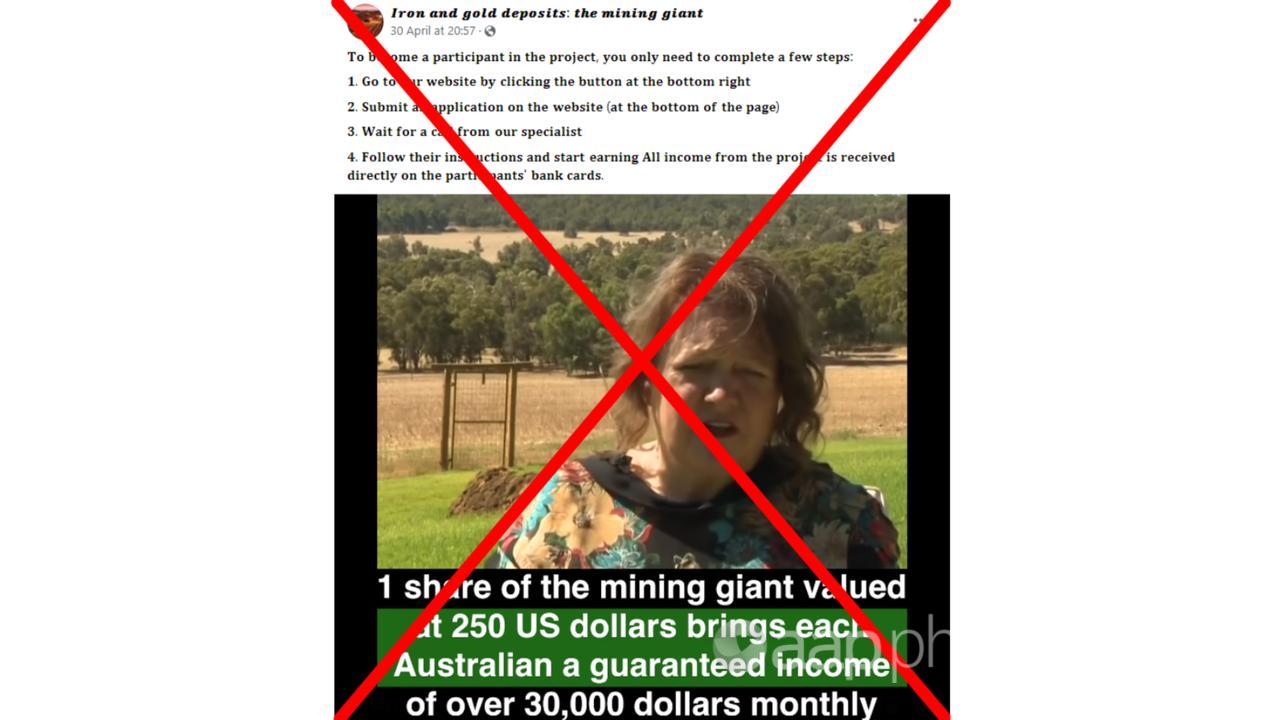 One post (screenshot here), which has been viewed more than one million times, uses a clip from a March 2022 interview with Sky News presenter Andrew Bolt.
The original interview has been cut with stock footage and overlaid with a voiceover to make it seem as if Mrs Rinehart is offering stock investments in her mining company.
"I'm excited to offer you an exclusive opportunity to invest in Hancock Prospecting shares. With just 250 USD secure your financial future and support our nation's economy," the voiceover says.
Text on the bottom of the video states: "1 share of the mining giant valued at 250 US dollars brings each Australian a guaranteed income of over 30,000 dollars monthly."
The caption instructs Facebook users to click the link below the video, submit an application and "wait for a call from our specialist".
The link redirects to a website which has been identified as a trading scam.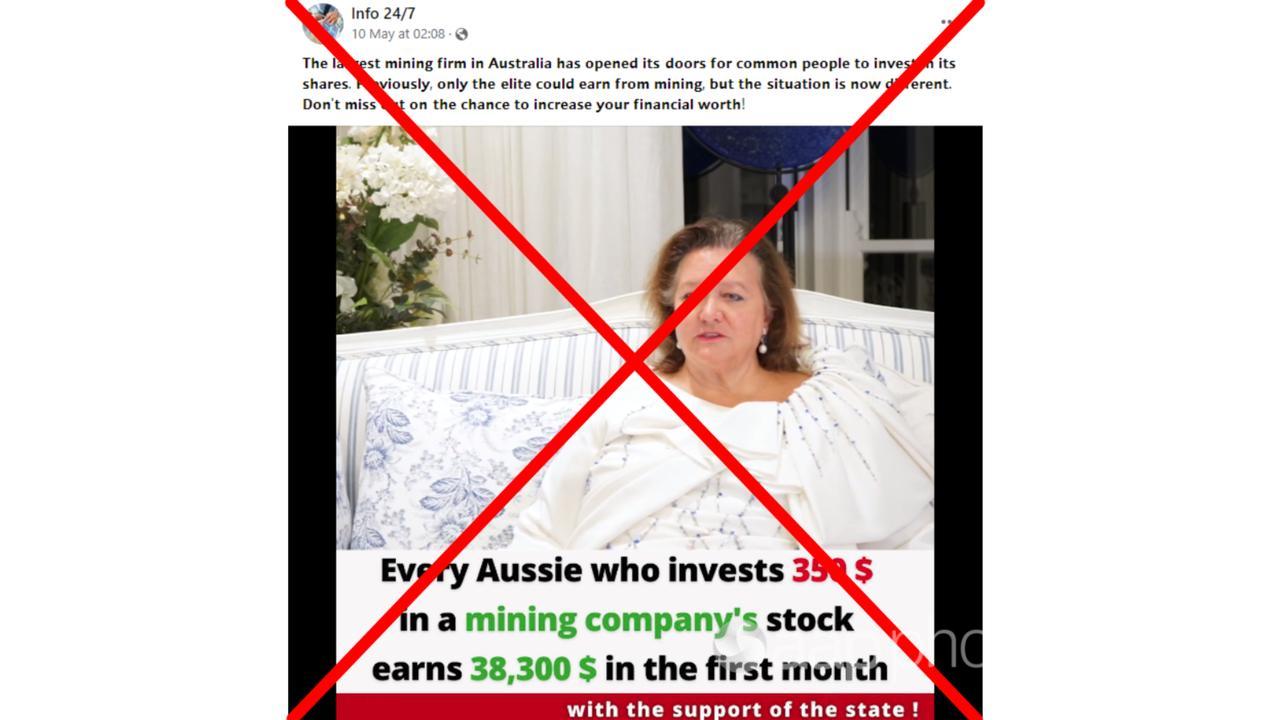 Another post (screenshot here) begins with a clip of Nine News Queensland presenter Melissa Downes.
The original video – about a carjacking in Ipswich – has been badly dubbed with a voiceover stating: "Shares in an Australian mining company are now available to ordinary citizens. Take advantage of this opportunity to increase your wealth. The head of the company has opened access for everyone, so that everyone can live and make a decent living."
The post includes clips of Mrs Rinehart taken from a June 2020 interview with a business consulting firm, where she was reflecting on her childhood and career.
Footage of businessman and former politician Clive Palmer is also used in the scam video.
He appears to endorse buying shares in the company, with the voiceover saying: "When I heard about this project, I did not believe my ears, and rather contacted Gina. She confirmed that this is indeed true. The day after I invested, in my account was more than $5000."
The clip of Mr Palmer comes from a recent Sky News interview with host Paul Murray about the voice to parliament.
Links to a scam investment scheme website are shared in the comment section of the post.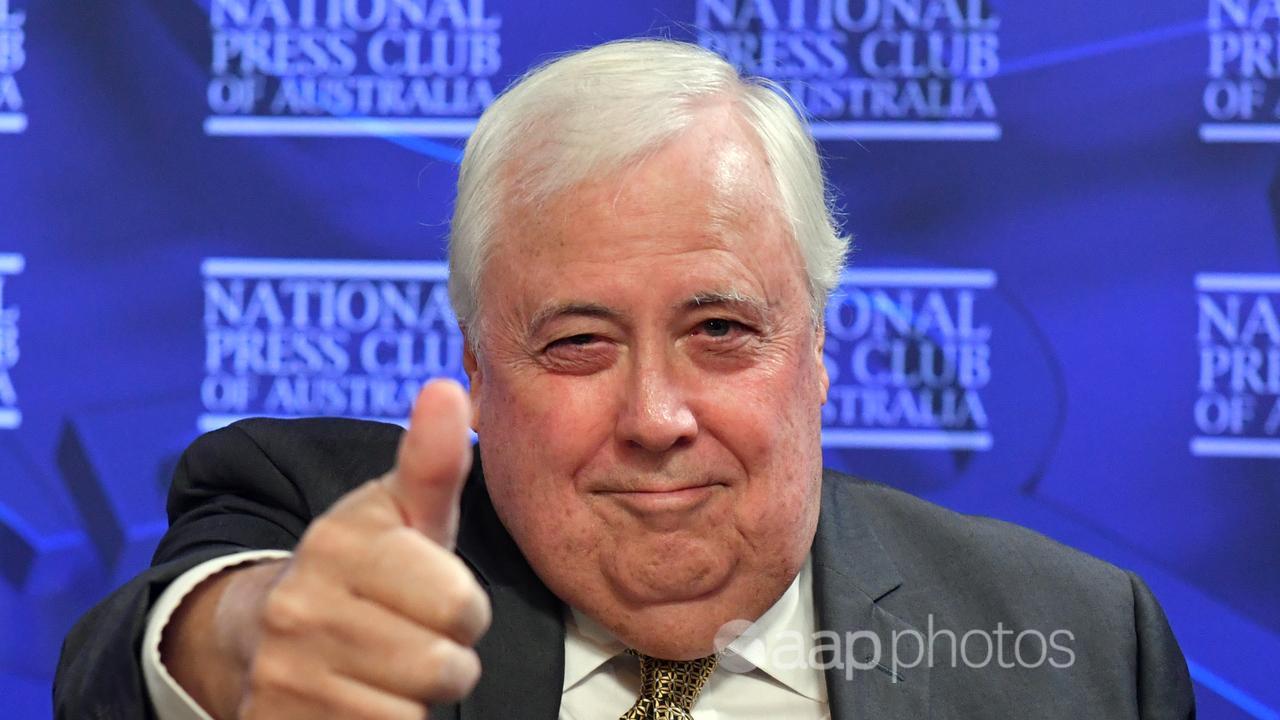 Other posts (here, here, here) use footage from Nine's A Current Affair on May 2 about vaping in primary schools and the same Mrs Rinehart interview with Andrew Bolt as mentioned above.
The Facebook pages sharing these videos have little activity and a small number of likes or followers. They also use profile and cover images taken from other sources, see here, here and here.
An Australian Competition and Consumer Commission representative has previously told AAP FactCheck fake Facebook posts are intended "to elicit money or personal information from you for the purpose of identity theft".
AAP FactCheck has addressed other Facebook scam posts here, here, here and here.
The Verdict
Videos claiming to show Australian billionaire and mining magnate Gina Rinehart promoting shares in her company are fake.
The videos have been manipulated, using clips from various news interviews that have been edited with alternative voiceovers and stock footage.
False – The claim is inaccurate.
AAP FactCheck is an accredited member of the International Fact-Checking Network. To keep up with our latest fact checks, follow us on Facebook, Twitter and Instagram.
All information, text and images included on the AAP Websites is for personal use only and may not be re-written, copied, re-sold or re-distributed, framed, linked, shared onto social media or otherwise used whether for compensation of any kind or not, unless you have the prior written permission of AAP. For more information, please refer to our standard terms and conditions.